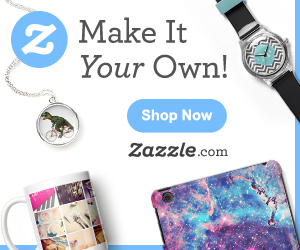 Have you heard of Zazzle? Well, regardless, I am sure you would like to know how to make good money with Zazzle.
Zazzle is an online service that enables you to unleash your creativity and make some cash if you want to. However, you can also just have fun and shop for customized products. Totally your choice.
They have a very simple mission statement, which makes it extremely attractive for the selers, too: "To Enable Every Custom, On-Demand Product in the World On Our Platform." Now enough talking, and for a change, have a look at some zazzle products in action with Martha Stewart below.
Did you like the video? I hope you did but I am sure that is not why you are reading this post, right? So can you make some cash with Zazzle? Yes, you can. There are 2 ways: a) You can become an associate. b) You can sell your designs online, spread the word, drive traffic to your store and earn through sales.
Enough chit chat. Let´s go into the details.
Becoming a Zazzle associate
When you become an associate, you:
Earn a 15% referral rate + up to 17% bonus
Get tons of products for everyone and anyone, everything and anything at your disposal
Can refer any page on Zazzle
Get effective free promotional tools
The length of the referral cookie is 45 days and minimum referral payment is 15%. There is also the volume bonus, which starts at just $100 and goes up to 17%. Minimum payout is $25 and you get paid by check or PayPal. There are products for any niche, just search for something by clicking the banner below.

Becoming a Zazzle seller
If you choose to sell your own designs online, you will have the following benefits:
You can set your own royalty rate on every product
There are hundreds of retail-quality products to design for
You can reach more than 25 million monthly shoppers
You can open a store for free
You get tons of tutorials and guides for free
If you decide to open a zazzle store, as I have, and mind me I am not that creative :-), it will be customizable to match your designs, your brand, and YOU. There will also be a store wall for comments, where you can interact with buyers and fans.
Fans? Yep, fans! You get your own fan club and your fans will be automatically updated when you add new products.
Then there is a real-time reporting center and unlimited design storage, which is not bad either, right? And what´s more, you only need a valid e-mail address to register for the store.
The concept of how zazzle envisions the future of shopping is nicely explained in the video below and further below you can see my humble attempt at "creativity."
Just a note: The pic on the left has an affiliate link to my Zazzle store. I will make a small commission if you order anything you like during your shopping session or if you create an account. Thanks for your support!